As a self-published author, you know it's a labor of love to get your book out. You've got to find time and space so you can get in the flow and write.
Then when you move into the publishing phase, you have to filter out questionable distribution agreements — where some distribution channels want to dictate the price of your book.
On top of that, you're looking at either converting your eBook into an audiobook or publishing an audio exclusive work. Perhaps you're also weighing recording the audio yourself versus using a production company.
Sifting through it all can feel like a lot.
This guide dives into everything you need to know about publishing an audiobook from potential costs to the recording process so you can make the most informed publishing decisions.
First, let's look at the most popular genres finding success as audiobooks.
TOC:
What Genres Are Popular for Audiobooks?
How To Make A Publish-Ready Audiobook
Audiobook Distribution Platforms
ACX
Findaway Voice
Soundwise
What Genres Are Popular for Audiobooks?
As you likely know, not all genres are a good fit for audiobook publishing. Step-by-step instructions from a cookbook or a reference like a travel guide won't translate well into a published audiobook.
An annual study by the Audio Publishers Association found mystery/thriller/suspense continues to be the most popular genre for audiobook listeners. Other general fiction genres including fantasy account for over 67.3% of sales. The remaining 32.7% spans history, biographies, memoirs, self-help, and other non-fiction books.
How To Make A Publish-Ready Audiobook
Publishing an audiobook is easier than ever thanks to on-demand resources and free tools. For self-published authors, follow these steps.
1. Create a Script from your eBook
Whether you're converting a published book to an audiobook or creating an audio-exclusive experience, you'll need a script for the audiobook recording session.
In your script, remove any hyperlinks, images, captions, and call to actions.
2. Decide Your Production Approach
Once you have a script in hand, you'll need to plan if you're going the DIY route or hiring someone to record your audiobook.
There are a few potential scenarios:
Record yourself at home

Rent a studio and record yourself

Hire a narrator and handle edits

Hire a narrator AND producer

Narrate your audiobook yourself and have an audiobook producer edit it

Hire an audiobook producer to source narration and complete production
3. Record at Home
Depending on which equipment you already have, self-recording at home can be your most cost-effective option for creating an audiobook.
Whether it's your autobiography or another book written in your voice, narrating yourself is a more natural fit — as long as you have the confidence and gear to pull off completing your production from home.
What you'll need to record an audiobook at home: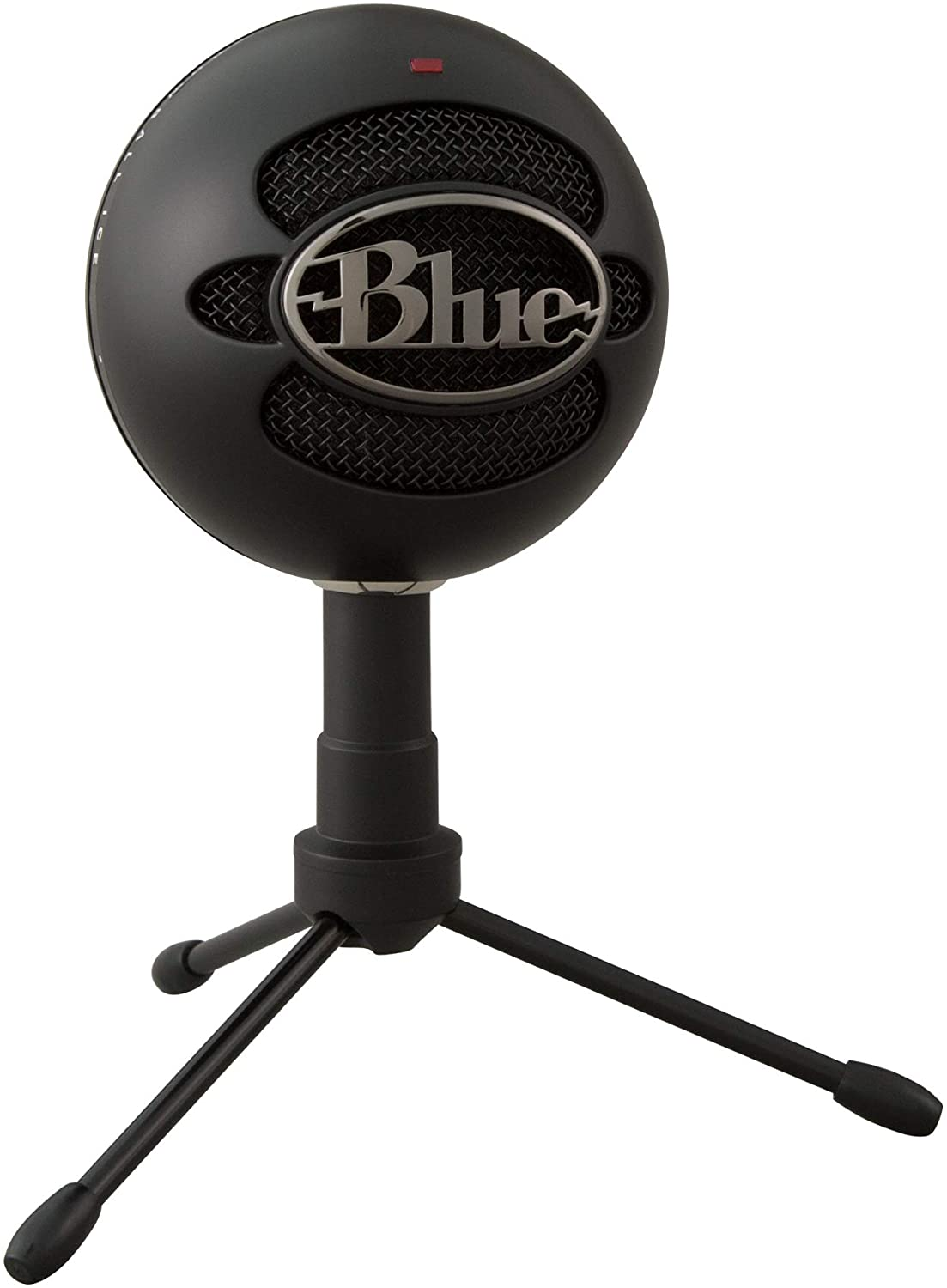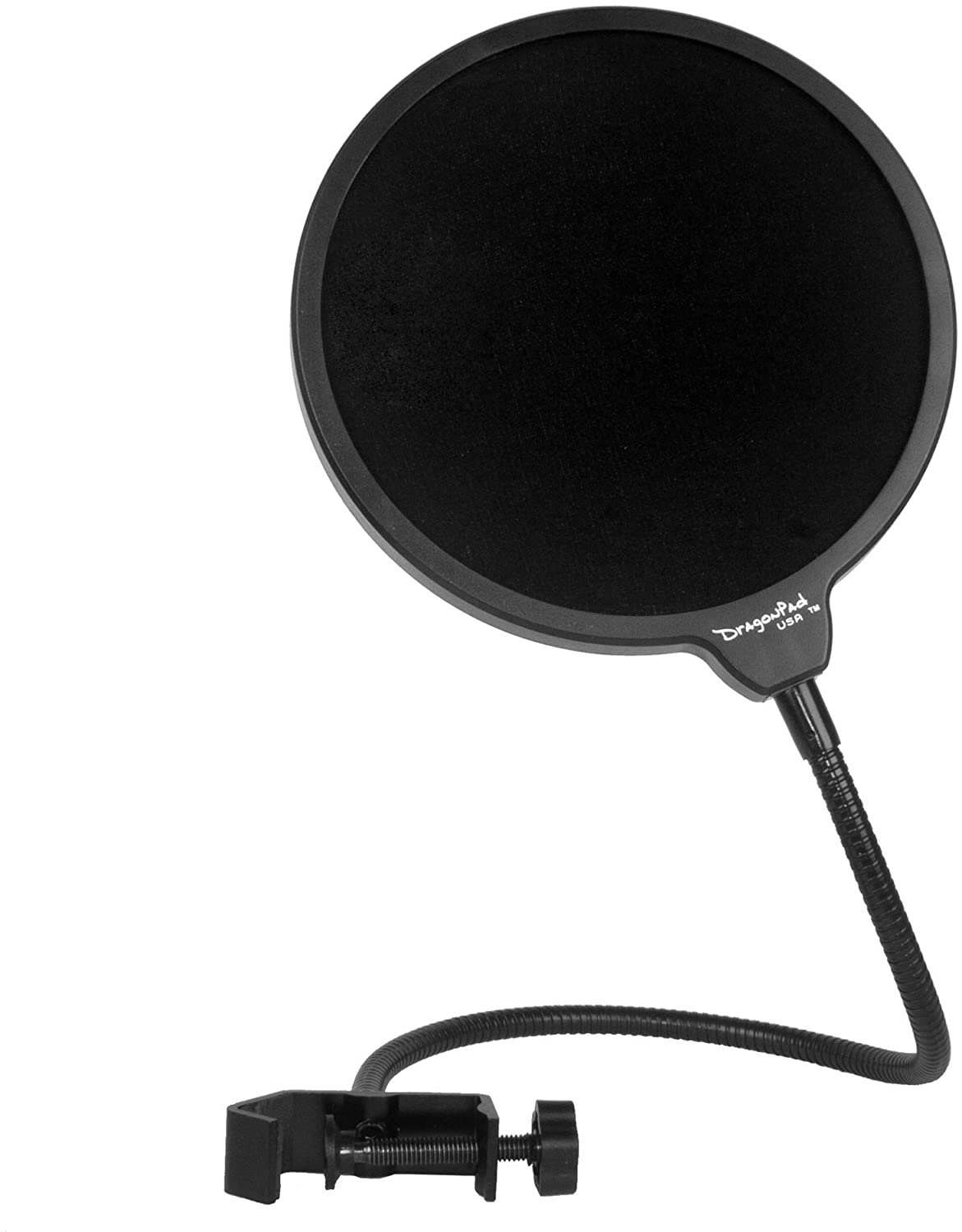 A

pop filter

to reduce or eliminate popping sounds caused by the impact of fast-moving air on the microphone during recorded speech ($13)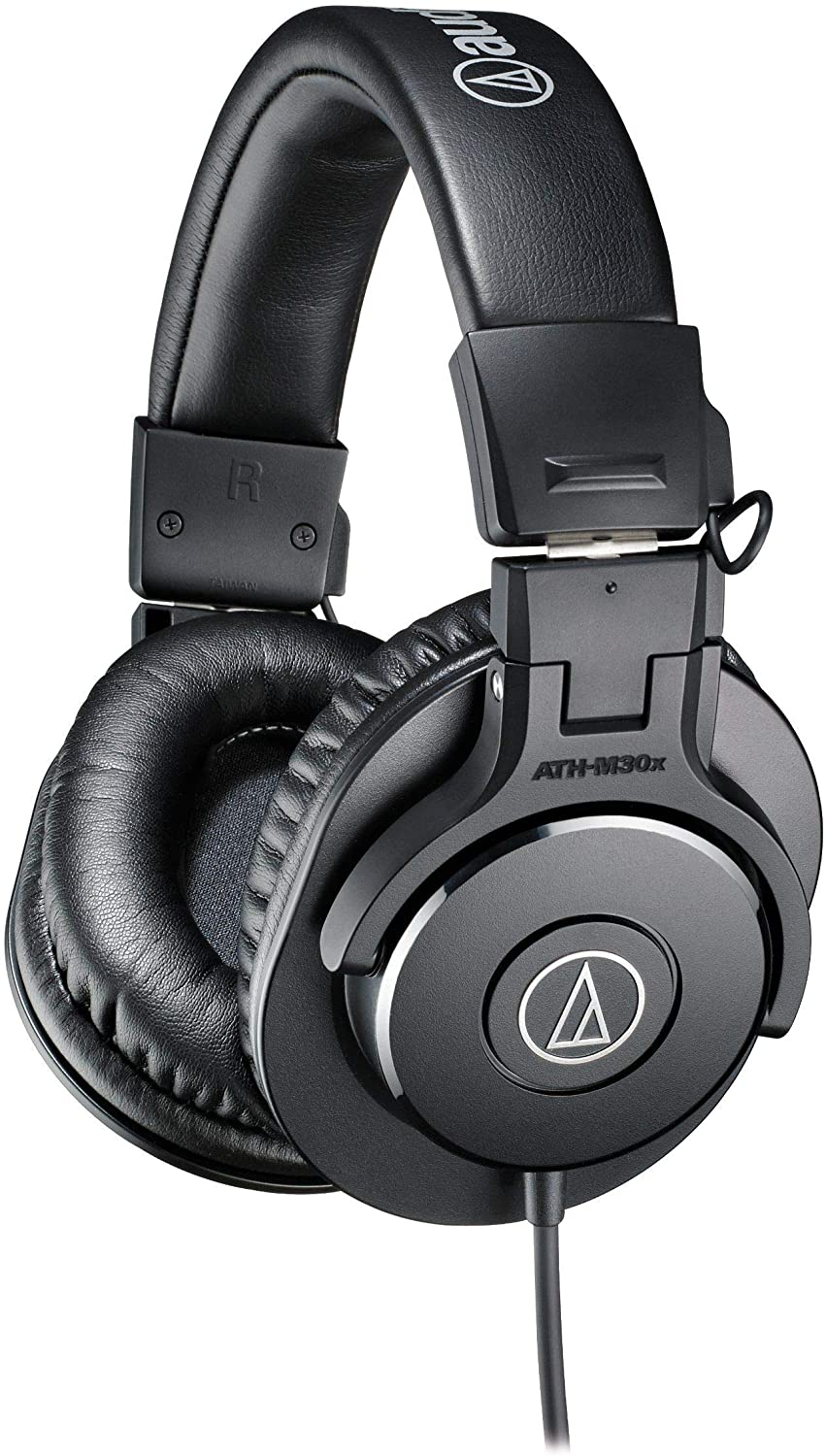 If you're monetizing a podcast, audio course, or publishing multiple audiobooks, acoustic treatments can be a solid investment. In a smaller room, you can also reduce reflected sounds with Auralex Studiofoam wedgies ($145). Plus, barrier curtains ($90) to reduce noise coming through windows.
All that said, turning fans and any other machines off may suffice.
Pro-tip: Test your recording environment by narrating a short 30 second clip of audio to ensure there are no background noises or reflecting sounds.
During recording, speak the same distance away from your microphone. You can also keep the recording consistent by being aware when you sound exhausted. Two hours a day may be the most you can do. Or you may need to space out sessions a few days apart. Warm water and honey can help keep your vocal cords from straining.
Record chapters from start to finish to cut down your editing time. Use an iPad or other device with all sounds muted so you can read aloud and record. Keep in mind you may need to go back and re-record specific sentences.
Another pro-tip: Go back and record the last few paragraphs you recorded the day before. Then playback to see if the tone is the same as the earlier recording.
A few other editing tips:
Playback recordings wearing headphones.

Record all audio in mono and make sure volume levels are 0.0 decibels (dB). During playback the sound should be loud enough you're not cranking up the volume all the way to be able to hear it.

Avoid audio effects unless you have a key section where it makes sense or a small effect improves the sound.

Save your project often in case your recording software crashes.

When you're finished with your raw file and ready to export, the end file format you will submit to most platforms is mp3.
Ultimately, if you decide to record at home expect some trial and error.
4. Capture In Studio
Lacking the right space or having too many distractions at home? Consider renting a recording studio.
Search by "podcast studios" and "music recording" to find soundproof recording solutions near you. Expect to pay starting at $30 per hour for renting a small studio. More state-of-the-art spaces may charge upwards of $200 per hour.
As you're gathering pricing quotes, factor in if they provide any equipment and a sound engineer.
5. Hire an Audiobook Narrator
If you don't feel like your speaking voice can do your book justice, find a narrator on platforms including Voices.
A quick search of "audiobook" on Voices shows over 6,000 voiceover talents.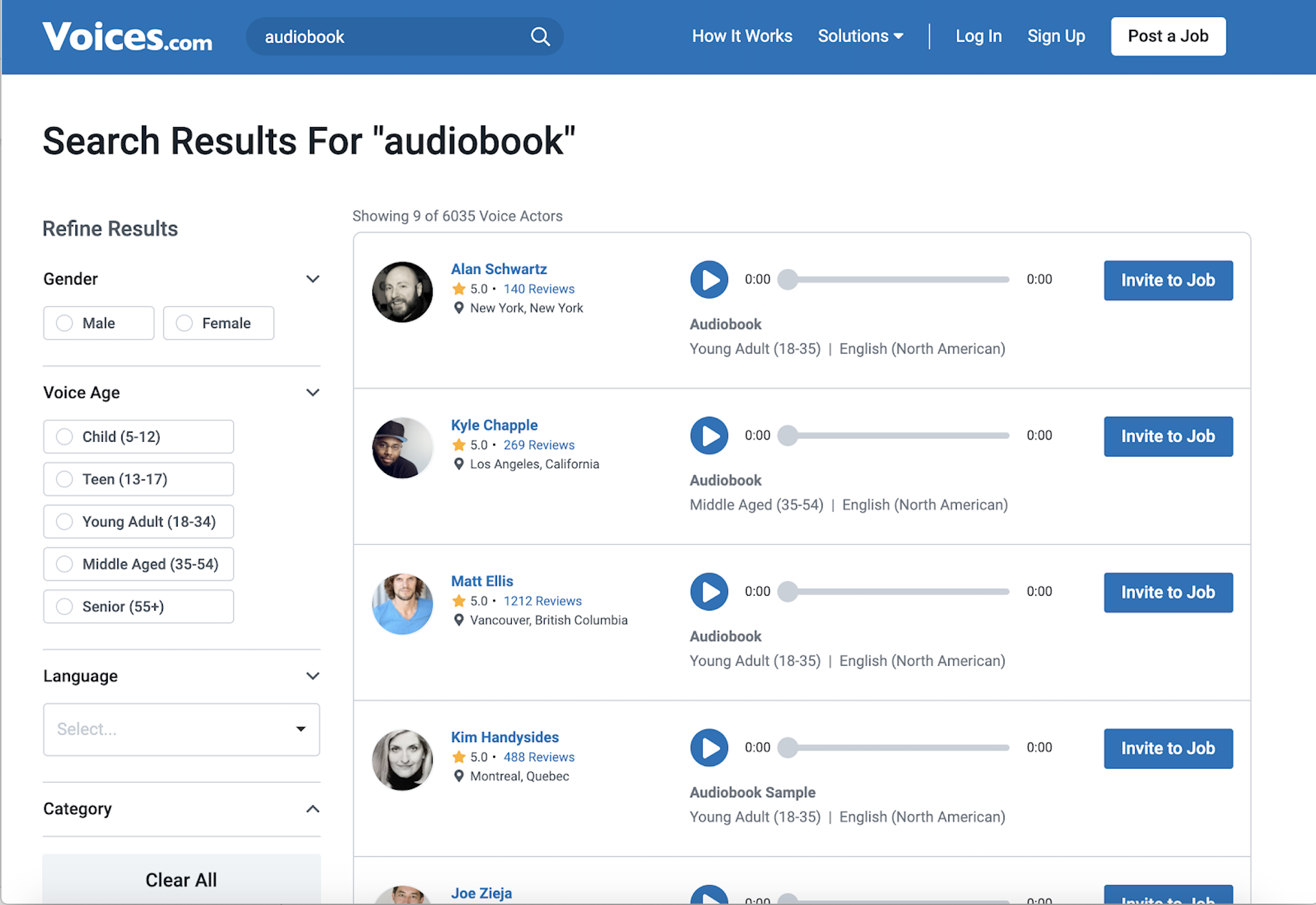 Then narrow down your selection faster by language, voice age, and other factors.
Ensure the scope of the project is clear when hiring a narrator. Whether you're only hiring them to narrate or submit a mastered recording, put the scope in writing.
Depending on where you hire a narrator, lookout for royalty requests. For example, if you hire a narrator and publish your audiobook through ACX, they may demand a royalty share on revenue generated by your book.
If you have a smart promotion strategy and can earn more than $1,000 publishing an audiobook, hiring a narrator for a flat fee makes the most sense.
On the bottom range, narrator fees can be as low as $40 per finished hour. $225 per 10,000 words is a good benchmark and number to work off.
6. Use An Audiobook Production Company
If doing it all yourself sounds like too much or you're not ready to learn how to use recording software, you can also hire an audiobook producer. An audiobook producer can provide the final audio that's ready for you to publish on any distribution platform.
Depending on the arrangement, you can submit recordings the producer will edit. Or they can find a narrator and complete the entire audiobook production. They may even help you create the book cover image.
Bottom line: the contract needs to clarify what services the audiobook production company will deliver.
With freelance platforms including UpWork and Fiverr you can post a job ad to find an audiobook producer. Browse each candidates' job history to see how others rate their experience hiring a specific freelancer.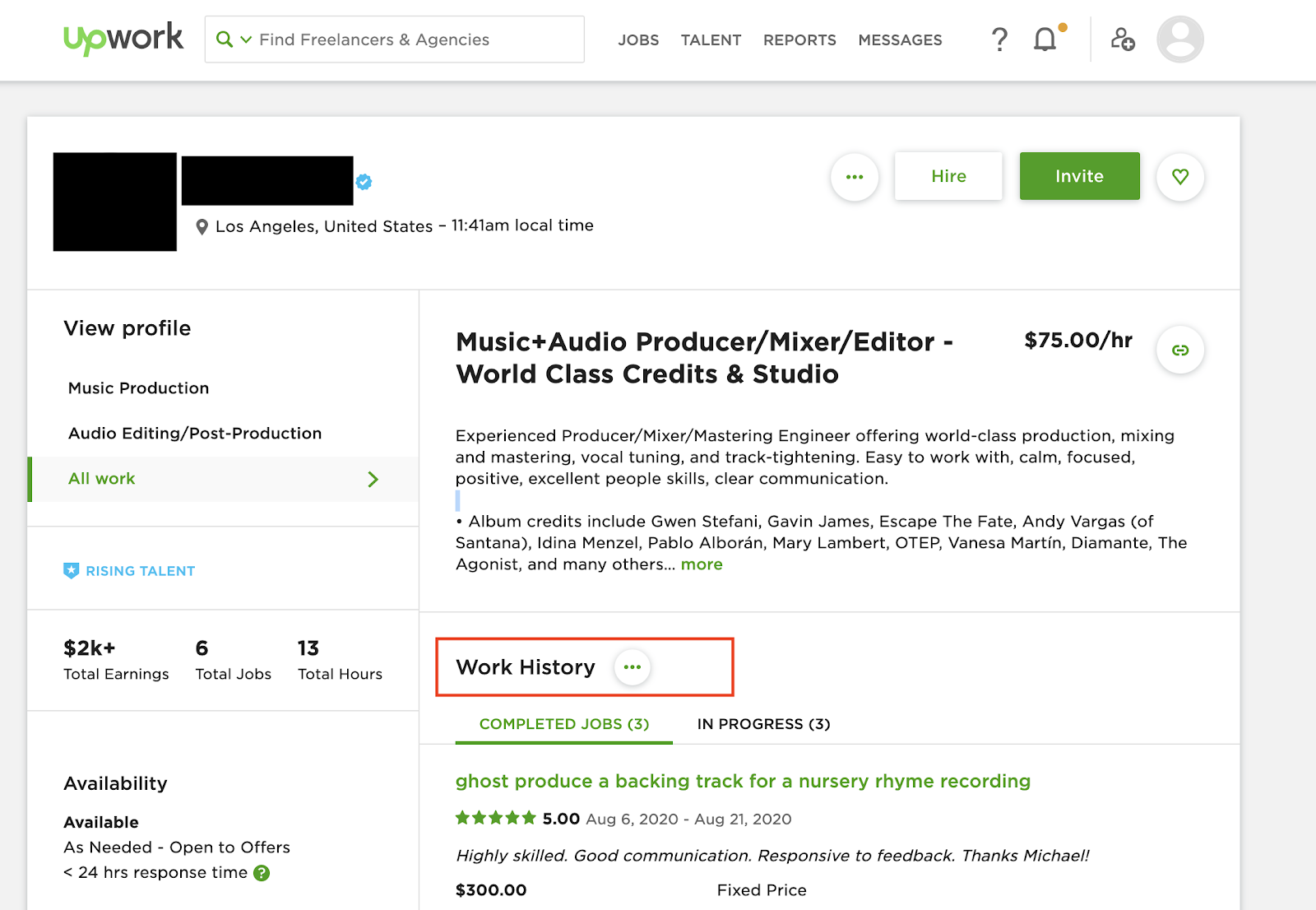 You can also see the amount they received working on similar projects in their job history.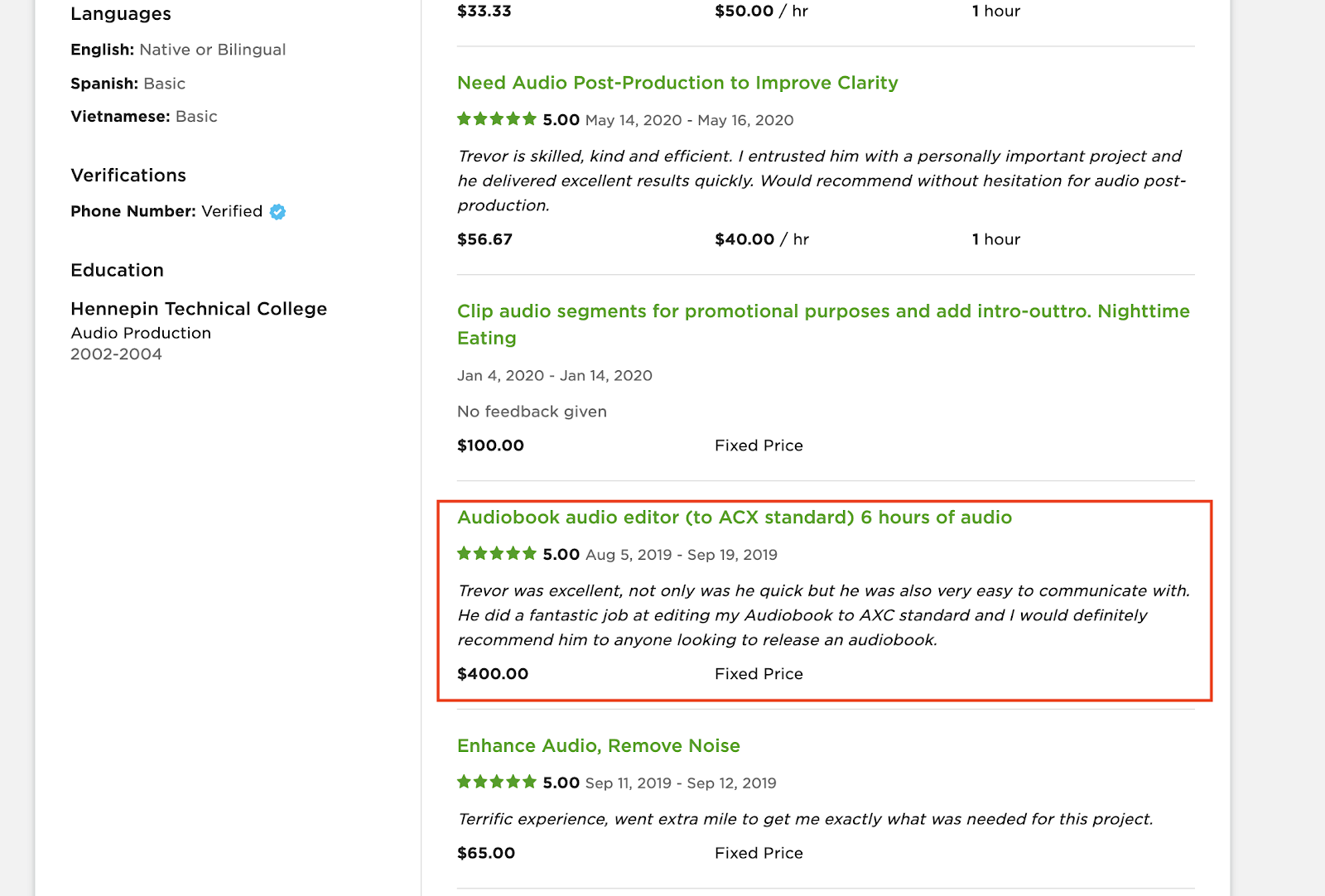 You can also view the top audio production specialists curated by UpWork.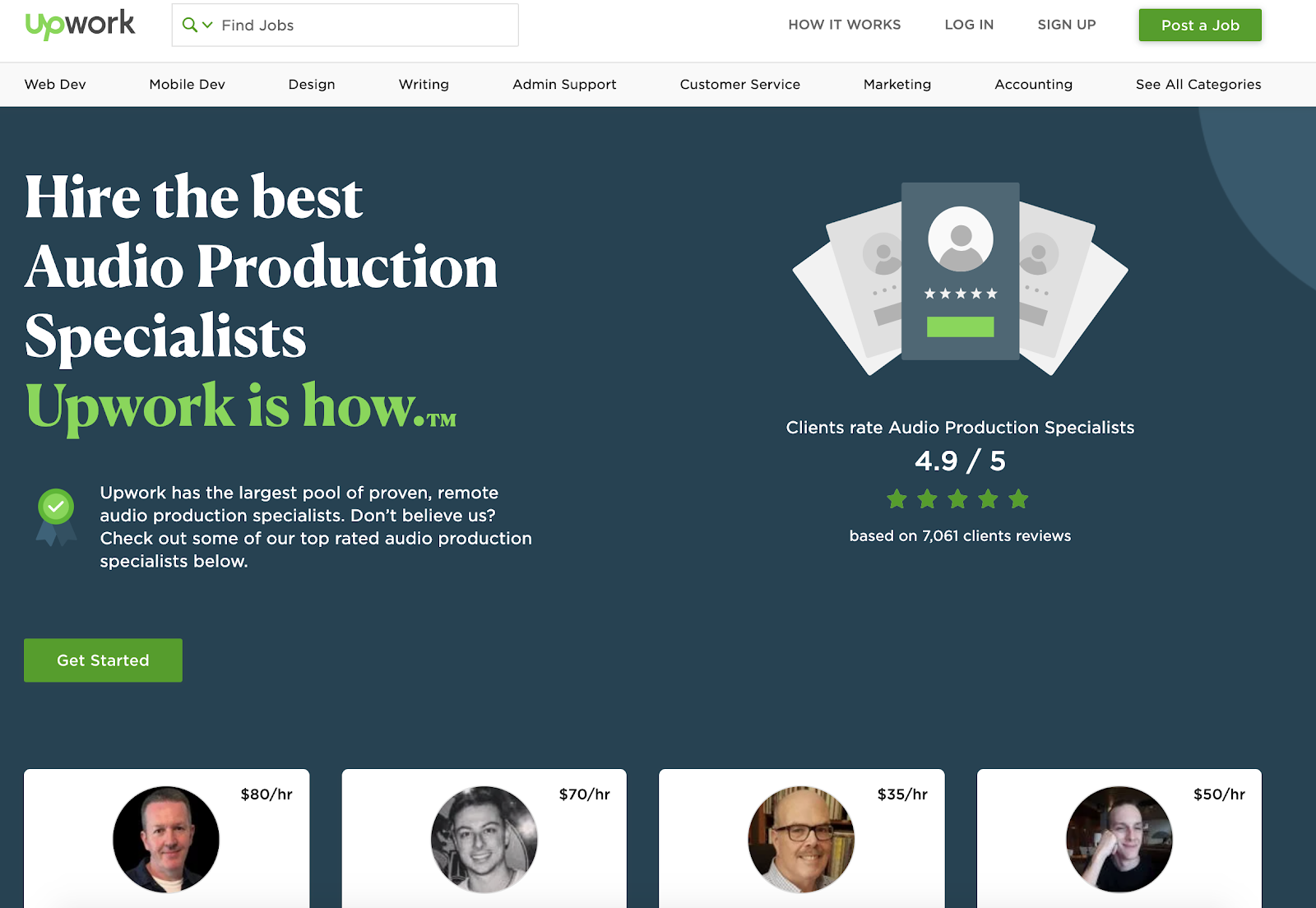 7. Prepare Other Assets
Beyond the audiobook recording and a great book description, you'll also need a cover image. If you have an eBook you're converting to an audiobook, it'll be a matter of hiring a graphic designer for no more than 30 minutes of their time.
Now, if you're creating a cover from scratch, keep in mind the technical requirements based on the platform(s) you intend to publish on.
Audible outlines the following requirements:
No smaller than 2400 x 2400 pixels.

No smaller than 72 dpi resolution.

24-bit (True Color) minimum.

RGB color (not CMYK).

Images must be a true square, not a rectangular image with borders.

File name should be condensed book title. Alphanumeric characters only.

Must contain the name of the title.

Cannot refer to physical media (such as CD's) other than the audio presented.

Cannot show scans of jewel cases, promotional stickers, or cellophane.

No pornographic or offensive materials.
Soundwise's cover image requirements are simply a square image greater than 1400 x 1400 pixels and smaller than 3000 x 3000 pixels.
To recap, here is a quick breakdown of costs on a 50,000 word audiobook for each production approach: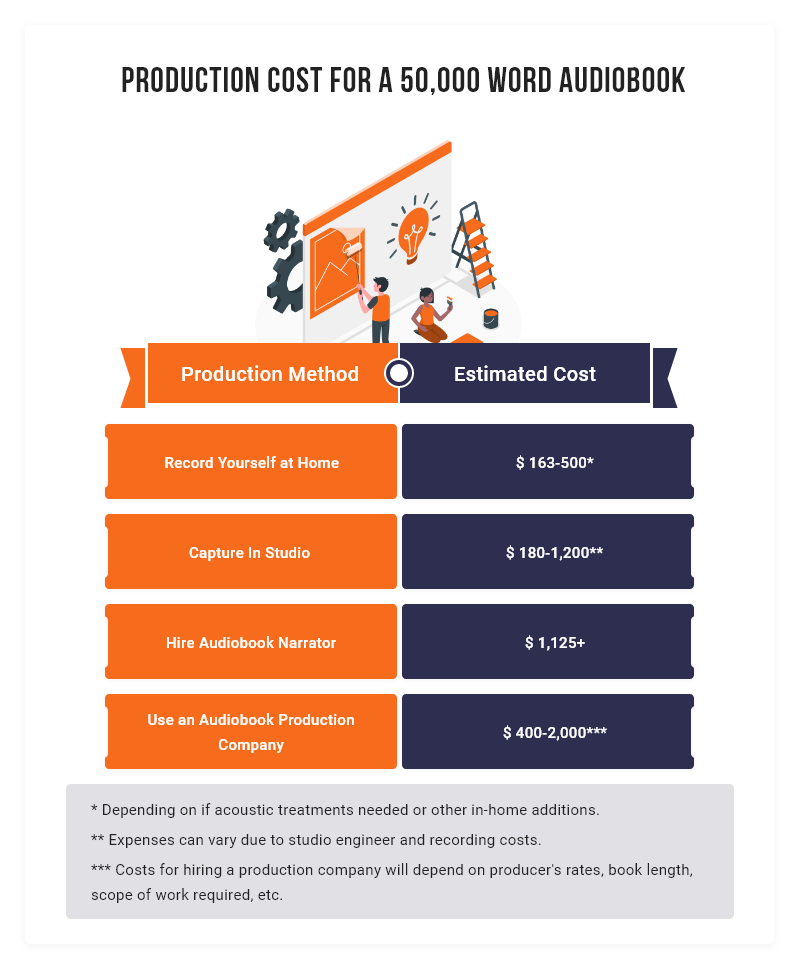 While squaring away production, you're also weighing different audiobook publishing platforms. Here are some popular distribution approaches along with the pros and cons of each.
ACX
ACX, operated by Audible, is the largest publishing channel for many good reasons:
The Amazon-owned marketplace helps connect authors, publishers, narrators, and engineers together to produce and publish audiobooks.

After publishing through ACX, an audiobook will be available on Amazon, Audible, and the Apple audiobook store.

Audible (also owned by Amazon) is the leader in digital audio sales in the US.
That said, there are pricing limitations and other factors you need to be aware of when publishing through ACX.
ACX Limitations
ACX sets specific parameters for pricing your audiobook. ACX website contains the following price guidelines:
"Each retailer of your Audiobook independently prices your product and determines such price in their sole discretion. While not always the case, the regular price on Audible for the product is generally priced based on its length, as follows:
under 1 hour: under $7

1 - 3 hours: $7 - $10

3 - 5 hours: $10 - $20

5 - 10 hours: $15 - $25

10 - 20 hours: $20 - $30

over 20 hours: $25 - 35
To be clear, although the above represents general guidelines as retailer of Audiobooks sold on the Audible web site, Audible retains the sole discretion to set the price of the Audiobooks it sells."
The payment split for publishing audiobooks on Amazon is also aggressive with exclusive and non-exclusive agreements.
ACX Exclusive Distribution Agreements
If you decide to publish your audiobook exclusively with ACX, you're tied to a 7-year exclusivity contract. With this deal, Amazon pays you 40% of the book's earnings.
For newer audiobook publishers, they suggest you can either pay a narrator a flat fee so you retain all of the 40% revenue or split that revenue 50/50 with a narrator.
With the latter, you would only keep 20% of your book's sales.
ACX Non-Exclusive Distribution Agreements
With a non-exclusive deal with ACX, they penalize your earnings further so they only pay 25% in royalties. In other words, for a $10 audiobook, you make $2.50.
So as you can see ACX retains anywhere from 60-75% of the revenue generated from your book on their platform.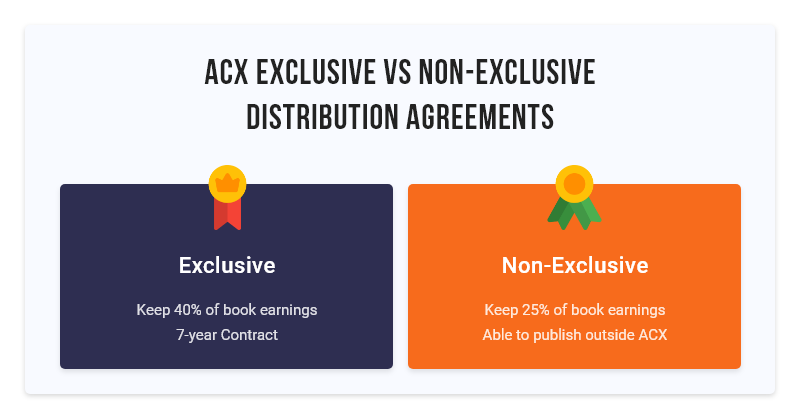 If your followers know about the revenue split, wouldn't they prefer to support you more by buying directly from you?
Consider also you have no way of contacting anyone who purchases your audiobook on Audible. When your book's sold on Audible, Audible owns that audience. You don't.
Want to reach out to someone who left a positive review to let them know about your next book? You can't. Cultivating a relationship with that listener becomes far more difficult. Publishing an audiobook through ACX leaves you totally in the dark about your listeners.
Building Relationships Through Your Email List
An email list of subscribers is the most valuable marketing asset any author can have today.
The average small business ad spend on Facebook is $1,000-$3,000 a month. Email marketing plans on the other hand start as low as $9 a month through ActiveCampaign and can see as much as $38 for each $1 spent.
Let's say you have 20,000 subscribers. If you meet the industry benchmark for open rates of 22.15%, you have over 4430 dedicated followers opening and reading your emails. If just 1% of those subscribers buy your book, that's 44 sales after sending a single email.
And selling through ACX / Audible means you totally miss out on building your own customer email list, as ACX provides no such information about your listeners.
Findaway Voice
Findaway Voice provides audiobook production and distribution services. Plus audiobook delivery to readers through the Authors Direct mobile app. On their platform, you can potentially sell to retail, libraries, and schools.
Compared to ACX, they require a $100 fee upfront. If you distribute to Audible and iTunes through Findaway Voices, Audible will take the 25% non-exclusive royalty rate they normally pay you and give it to Findaway Voices. Findaway Voices then keeps 5% of sales of your published audiobook on those stores. So you make $2 off a $10 audiobook.
With non-Amazon partners, you'll get paid between 32% and 50% of your retail list price. For example, with a $10 book, Nook pays Findaway Voices a 45% royalty rate, or $4.50. Findaway then keeps 20% of that amount, leaving you with $3.60 or 36% of the total list price.

Soundwise
Soundwise is the audio platform of choice for independent authors and content businesses looking to deliver premium on-demand audio and grow an engaged audience. On Soundwise you can upload your audiobook for mobile-app and web-based delivery in as little as a half-hour.
As an alternative to ACX, you set the price. Through Soundwise's starter plan ($10 a month if you sign up for the annual plan), you retain 85% of each transaction; keep 100% of your book sales under the Pro and Platinum plans.

Most self-published authors and publishing houses are responsible for promoting their audiobooks and building their audience. You need to put in the time and effort to grow your listener base no matter which platform you publish on. And with Soundwise you can fully reap the benefits of your labor.

Grow Your Listener Tribe
You get each audiobook listener's name and email address with Soundwise. That way, you can reach out and keep them updated on your latest releases.
Plus, you can also use free and low-price audiobooks as lead magnets to build up your email list. 15-time USA Today Best Selling Author Sarina Bowen shares the first chapter of her audiobooks for free on Soundwise to grow her audience.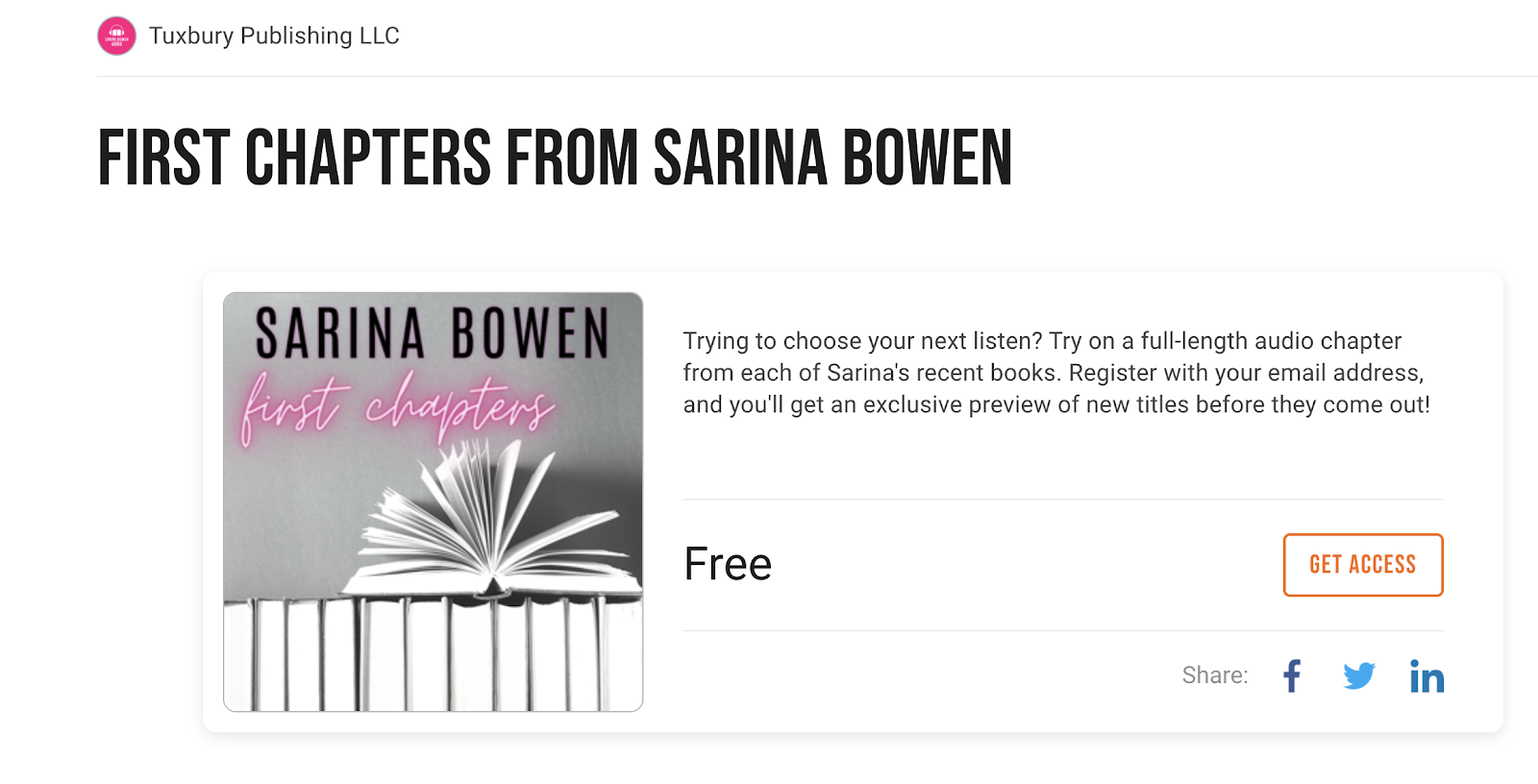 You can even do more with your audiobook marketing campaigns. Offer discount codes and limited-time promotions through Soundwise. Along with updating readers via email, you can also send group messages with push notifications to your listeners on the Soundwise mobile app.

Soundwise also gives you the ability to engage with the feedback your readers provide. You can respond to their live comments or follow-up with them via email.
In a nutshell, here is a breakdown of ACX versus Soundwise: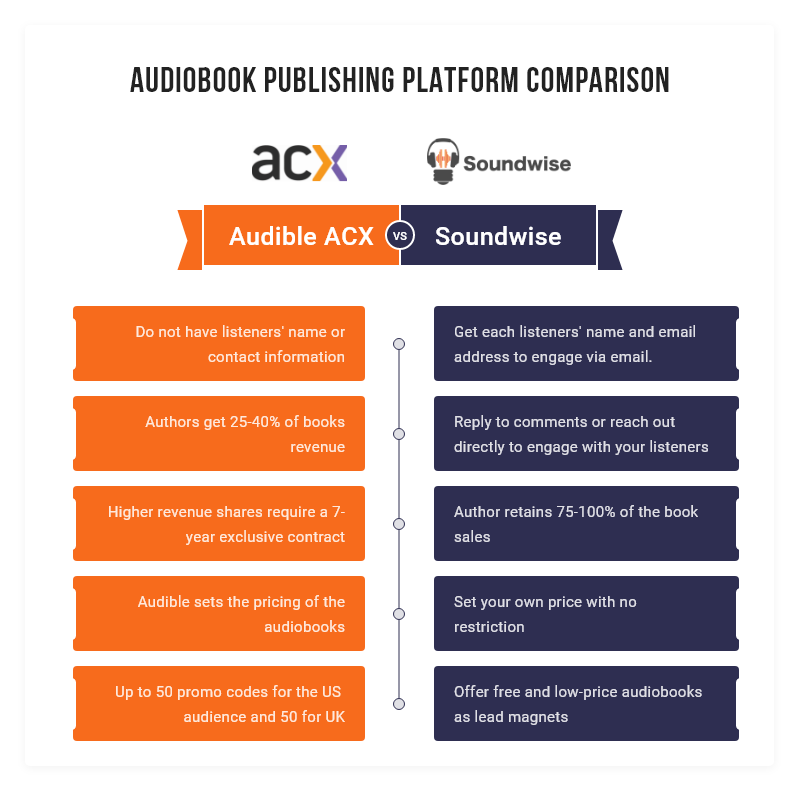 Wrapping It Up
Selecting the right production and publishing strategies is a delicate balance of time and cost. If you have a marketing plan in place and an email list you want to grow, a hybrid self-publishing / ACX distribution approach might make the most sense.

ACX can help new authors get started with publishing and gain exposure. But to be a successful independent author, you'll also need to grow an email list and nurture your tribe. Soundwise lets you build a loyal tribe and keep a higher percentage of your audiobook's revenue. In this sense, both are invaluable tools for independent authors.